Quiti-Kill Holds Dengue Rallies in Quezon City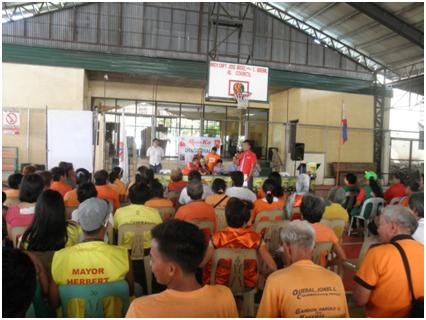 It is already the rainy season and, therefore, the dengue season. QUITI-KILL partners with the Quezon City government for a stronger and more effective anti-dengue program this year. The Dengue Rallies kicked off last June 6 in Barangay West Fairview with the support of the barangay officials led by Barangay Captain Jose Arnel L. Quebal and the QC Health Department led by Chief Epidemiologist and Surveillance Officer Dr. Rolly Cruz. Succeeding rallies were held in barangays Kaligayahan, Greater Lagro, North Fairview and Bagbag last month and many more are lined up this July.
The dengue rallies are part of the partnership forged by the QC government led by Mayor Herbert M. Bautista and the chief dengue advocate in Malaysia, Tunku Naquiyuddin ibni Tuanku Ja'afar, together with the local distributor of QUITI-KILL, Yngentech, Inc. led by President Eugenio S. Ynion, Jr. The mayor expressed gratitude to the Malaysian Prince and the Philippine business sector for choosing Quezon City as the first city to roll out the programs under the anti-dengue advocacy called REAP (Reduction, Education, Activation and Protection). The city is the most affected by dengue with a reported 1,862 cases from January to May, resulting to 11 deaths.
The new biolarvicide product QUITI-KILL is now gaining ground as the safest and most cost-effective way to mosquito control and therefore, dengue control. QUITI-KILL kills mosquito larvae so they do not develop into adult mosquitoes anymore and will not be able to spread the dengue virus. QUITI-KILL is in rice husk form to be placed in areas of stagnant water which are the breeding places of mosquitoes. Quiti-kill Rice Husk, in sachet, is very cost-effective and remains effective after 2 weeks for an area of 10sqm. For any inquiries about QUITI-KILL, please call (0917) 453-7839 or (0943) 563-2-563.