Quiti-Kill Helps QCGH Dengue Victims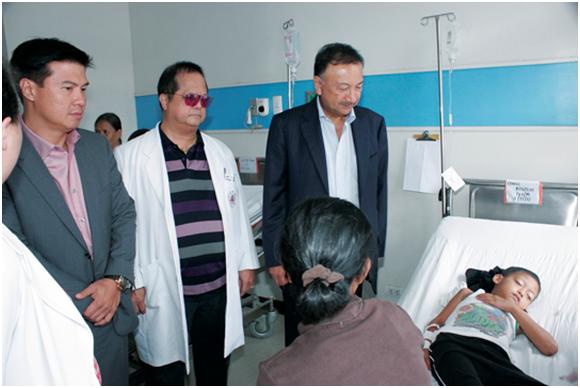 Dengue victims are mostly children and the Pediatrics Department of the Quezon City General Hospital and Medical Center is a testament to the seriousness of this public health concern. Recently, the hospital was visited by the makers and distributors of QUITI-KILL, an innovative approach to eradicating mosquitoes including the dengue-carrying Aedes aegypti. Entogenex Chairman and His Royal Highness Tunku Naquiyuddin ibni Tuanku Ja'afar of Malaysia and Yngentech, Inc. President Eugenio S. Ynion, Jr. led the business sector to forge alliances with the QC government and health professionals towards a dengue-free Philippines. The challenge was warmly accepted by the hospital thru its director, Dr. Edgardo V. Salud.
QC Mayor Herbert Bautista earlier led the local government officials in signing the R.E.A.P. advocacy pioneered by HRH Tunku Naquiyuddin. REAP stands for Reduction of mosquito population, Education of the disease and its transmission, Activation of the community and Protection from mosquito bites.
The new biolarvicide product QUITI-KILL is now gaining ground as the safest and most cost-effective way to mosquito control and therefore, dengue control. QUITI-KILL kills mosquito larvae so they do not develop into adult mosquitoes anymore and will not be able to spread the dengue virus. QUITI-KILL is in rice husk form to be placed in areas of stagnant water which are the breeding places of mosquitoes. Quiti-kill Rice Husk, is most effective if applied at at a ratio of 1-2 grams per 10 square meters of treatable area. It remains effective for 2 to 3 weeks after application. For any inquiries about QUITI-KILL, please call (0917) 453-7839 or (0943) 563-2-563.